Learning from the Past
On October 31, 2019, The Kings Academy's Theatre Company opened with The Hunchback of Notre Dame starring Caleb Adams and Aubee Billie. Being the 50th year anniversary, Mr. Snyder decided to bring in TKA alumni to each show so that the students involved in musical theatre can learn from them. For the role of Quasimodo, TKA alumni Caleb Adams came in to perform alongside Aubee Billie who played Esmerelda. Esmerelda is a gypsy dancer who loves to raise other people's spirits through her dancing. She wants others to feel wanted and loved because she herself feels like an outcast. In the musical, her purpose is to help Quasimodo be proud of the person he is on the inside and not be afraid to hide behind his outward appearance, which was "ugly". Caleb Adams graduated from The Kings Academy in 2007 and had the opportunity to play Quasimodo. When Caleb was a student here at The Kings Academy, he was too frightened to play a lead in any of the shows, so this was his first time getting to work on microphone with an audience. Aubee Billie was so excited to play alongside him because this was something new for both of them.
Through this experience, they learned from each other. Aubee said, "The craziest part to me is that Caleb has always been afraid to sing aloud in front of others, but his voice is incredible. Everyone who comes to the show and hears his voice will hear it as 'gold.'" Aubee was honored and grateful to be part of Caleb getting out of his comfort zone and doing something that scared him for the longest time. Aubee said that this is such a monumental process for everyone in the cast. In TKA's last show, Aida, Brittany Wallace (who played Aida) is an entertainer on the Norwegian cruise line so she had something different to offer for the students. "With Caleb, there was something special and different that enabled the cast to learn from him, coming from a personally nonmusical background (his brother and parents are very musically driven). Caleb put an incredible amount of effort and focus into this show because he wanted to make it the best that he could, seeing that he may never have an opportunity like this again," Aubee explains.
The Hunchback of Notre Dame is all about finding "what makes a monster and what makes a man." Esmerelda wants the people of Paris to see the sweet and caring man behind the monster everyone sees him as. She wants him to step out of his comfort zone and be the man he is on the inside. Similarly, Aubee hoped to help Caleb step out of his comfort zone and allow his gifts to be seen and heard. Aubee was so excited to be a part of this project and she hopes everyone who came to the show appreciated Caleb's God-given gift.
About the Contributor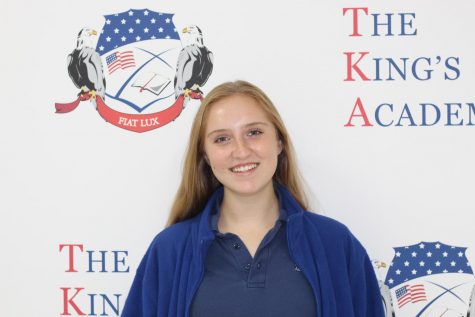 Olivia O'Leary, Contributor
Olivia O'Leary is going into her eighth year at The King's Academy as a senior. She loves to dance and sing in the choir while keeping up her studies...