Christmas Break Adventures
The King's Academy students are now on the official countdown for the end of school and for Christmas day. Everyone is excited to finally go home and/or travel while getting to get to relax for two weeks away from school. Some students, including Emilyn Root and Camden Popadic (both Juniors), are going on a choir trip to Epcot and Magic Kingdom for Disney's Candlelight Processional. They are going to sing about the story of Jesus' birth on the stage at Disneyworld. Camden says, "I'm so excited to be able to go back for this event because this trip is not guaranteed each year." Emilyn says, "I love sharing the true meaning of Christmas at one of my favorite places in the world and I can't wait to roam the Christmas-themed streets of Magic Kingdom with my friends the next day!"
Many students get the opportunity to travel away during their break and enjoy places outside of Florida. Hannah Norman, a Junior, gets to travel on the seas with Norwegian Cruise Line for her Christmas break. She is going to Saint Kits, Barbados, Saint Lucia, Saint Thomas, Tortola, San Juan, and Puerto Rico. Hannah says, "Out of all the places I get to go, I'm most excited to go to Tortilla because the beaches are beautiful, and I love all the 'tortillas.'" Another student named Eli Weeks, a Freshman at TKA, has the opportunity to go to Utah and snowboard. He is going with his sister and his father as a Christmas break tradition. After asking Eli what his favorite part about snowboarding was, he said it was "getting to see all the mountains while flying down the hills." Hope Leinwol, a Junior, is going to Tennessee to stay in a cabin for Christmas. "We used to own a cabin there, but we haven't been back in a while so we thought it would be a fun idea for a family vacation. We are going to participate in many different snow-related activities like snow tubing! We are also going to Dollywood because we literally love Dolly Partin. I'm so excited to have a break from school and enjoy time with my family." All of these students are excited to finally have a break from studying and get to enjoy their Christmas and the New Year.
About the Writer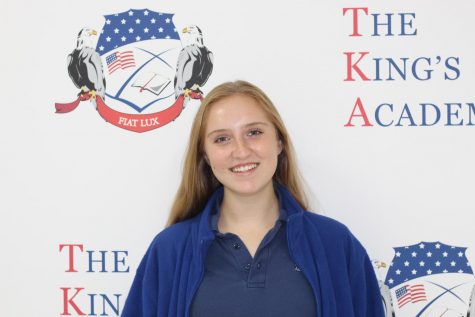 Olivia O'Leary, Contributor
Olivia O'Leary is going into her eighth year at The King's Academy as a senior. She loves to dance and sing in the choir while keeping up her studies...