An Application Journey
The stress level for seniors is rising as applications are being finalized and admission letters are being sent. Many students are applying to over ten colleges and have been busy keeping up with their college portals on top of all their school work. As deadlines are approaching fast, students are getting everything in and submitted. Hannah Norman, a senior here at The King's Academy applied to eight colleges: Florida State University, Baylor University, Palm Beach Atlantic University, University of Central Florida, Gulf Coast University, Florida Southern College, Stetson University, and University of South Florida. After talking with Hannah through her application process, she said, "The Common Application itself was very time consuming but I think the most stressful part besides the big college essay was the supplemental essays." The supplemental essays are separate essays that certain colleges will want for a little extra in their admission review. For example, the University of Central Florida had a supplemental question asking, "Why UCF?". They really want the applicant to explain why UCF is the school they are applying to without just saying, "because its right by Disney."
After months of preparation, several college essay drafts, and multiple college counseling meetings, Hannah Norman finally got all of her applications in and ready to be advised. Many people think that the stress involved with senior year is the application portion and that once all of them are submitted, it's finally time to take a breath of relief. Hannah has said otherwise. She said, "I thought I'd finally be free of all the stress of this college preparation, but the wait for the admission responses was the scariest part." After four long days, which doesn't even seem like that many, Hannah heard back from her one of her colleges. She was accepted into Baylor University! Baylor University is a private Baptist research university in Waco, Texas. "I was so excited for my first acceptance to be from Baylor since it's where my sister attended and graduated," Hannah mentioned. About two weeks later she heard back from even more colleges including Palm Beach Atlantic University, Florida Southern, and University of Central Florida. After asking Hannah which college was her top choice, she responded with, "University of Central Florida is my top choice. With the location in Orlando, Florida, I'll be right by some of the best vacation spots and be able to have a fun day at Disney right after school. UCF also has as an event management degree and certificate program for wedding planning which is exactly what I want to do." Hannah, and the rest of our seniors are super excited to begin their college journey next year as they anxiously wait for the rest of their acceptance letters and emails.
About the Writer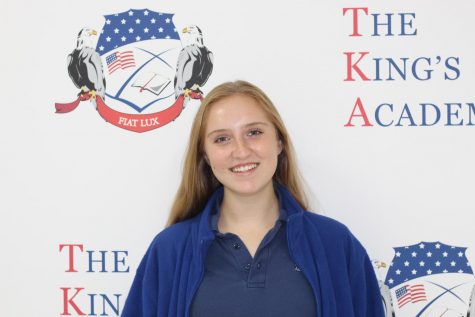 Olivia O'Leary, Contributor
Olivia O'Leary is going into her eighth year at The King's Academy as a senior. She loves to dance and sing in the choir while keeping up her studies...