Fight On
With the rise of global pandemic, COVID-19, student's lives have endured tremendous change. No longer are they able to go to school, see friends, or participate in extracurricular activities such as sports. One spring season in particular that got cut short is boy's lacrosse. This year, The King's Academy boy's lacrosse team was ranked in the top 10 in the state. They had put in excessive work during the off season in efforts to be exceptional and highly competitive by the time season arrived. These boys demonstrated what hard work, perseverance, and determination look like. Their hard work definitely paid off as they ended the season 8-1, defeating several school rivals and top lacrosse programs, such as Oxbridge Academy and the Benjamin school. Recognizing this team's dedication and success to the sport and one another, it is evident that boy's lacrosse team would have made it to the top if given the opportunity. After speaking with senior captain, Chris Erneston, he said "My favorite part of this season was beating Benjamin and Oxbridge for the first time in school history. This year's team was different because we were all best friends, trusted each other and, had very good leaders." Chris has been playing lacrosse since he was 8 years old and has mastered the attack position. Being a senior, he had to reluctantly end his high school career playing lacrosse quite unexpectedly. When asked what he will miss most, he says "I will miss playing with the boys because we do everything together and always have a good time." While the boys had a very successful season this year and had high hopes of continuing on to states, it is no secret that the future is bright for this group of boys. As they sadly lose a handful of seniors next year, the juniors and underclassmen are prepared as they are known for their incredible talent and skill. One devoted and skilled junior is midfielder #7, Trace Hogan. Trace has been playing the game of lacrosse for 8 years. He has been a major contributor to the team's success and will continue to lead the team to victory during his senior year next year. Hopeful for what is to come next year, Trace states, "I expect us to be a top school in the state again next year. This season has really prepared us to never take any game or practice for granted. We have learned to always work as hard as we can." Although the cessation of their season due to COVID-19, the boy's lacrosse team will only come out stronger next year and are determined to take the lead in the state. In the meantime, they will continue to work hard and never give up, growing stronger from this year's adversity, and demonstrating what perseverance looks like.
About the Writer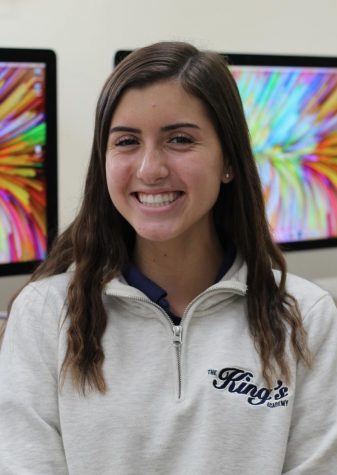 Maddy Diddle, Contributor

Maddy Diddle is currently a senior at The King's Academy. She has been at King's for 13 years. This will her be her 6th year playing lacrosse at...