Raise Your Voice… And Your Mask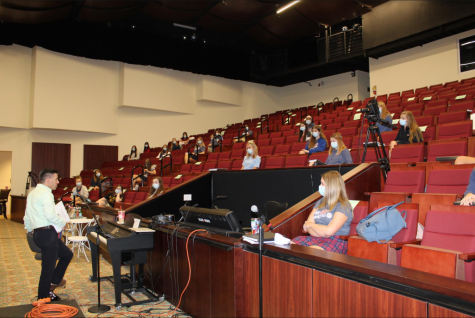 Did you ever think that, one day, singing would be deemed unsafe? Well, since the startling arrival of Covid-19, our unimaginable thoughts have come true. All across the world, unforeseen restrictions have been placed that hinder society's daily life. Surprisingly, one of the first limitations was placed upon choral and vocal performance.  It is now practically impossible to sing collectively, due to the fact that the pandemic is an airborne virus. Choirs ceased to exist, Broadway halted its industry, and leading worship services became problematic. Unfortunately, this correspondingly affects The King's Academy's highly regarded fine arts program. However, despite the setbacks that the corona virus has placed upon humanity, The King's Academy has found a solution that aims to allow students to continue to pursue excellence in their vocal abilities.
Since theatre and fine arts are an essential aspect of the school, a resolution was decided upon: males and females would be separated, socially distanced, and any vocal activity would be executed with a mask. To one's surprise, the results of the new protocol have been outstanding. According to David Snyder, the Conservatory of the Arts Director, "Covid-19 was practically a blessing to the theatre program, as it allowed students to build their voices independently and focus on technique". Instead of concentrating on performance repertoire, an emphasis was placed on learning about the voice as a mechanism and learning to use it correctly. As a current member of the female choir class, I have seen drastic improvement not only in myself, but in those around me. When we walk into the theatre, we are immediately given a mask and seated at least four seats apart. The first half of the period places emphasis on warming up the voice; the second half of the period is utilized to rehearse audition pieces or music that will contribute to the development of the voice.
The new class strategy is something that I wished we could have done for all the years that I have attended The King's Academy. Going to choir every day is like getting a free 50 minute voice lesson from a highly experienced musical director. It has truly been an amazing opportunity that I will never forget. Although the coronavirus has caused much strife in our day and age, it has allowed people to appreciate and be thankful for the lives they have. When the pandemic has finally passed and life is "normal" again, I will be able to look back, set aside the negative memories, and recall the blessings and lessons I received. I am certain that this "updated" choir class will be forever respected not only by me, but by each and every participant. A small yet impactful example, The King's Academy's altered fine arts courses prove that good can be made from any situation.