Inside Little Women Rehearsals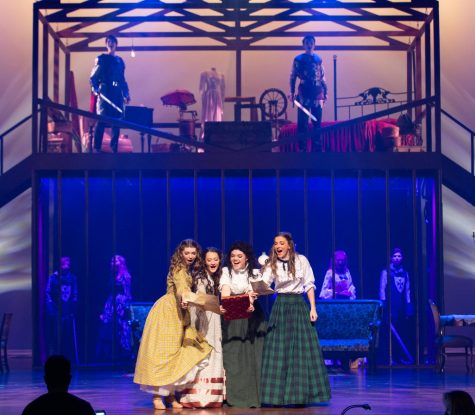 After wrapping "The Light In The Piazza," the Smith Family Conservatory For The Arts moves to the production of "Little Women". The family for the show is entirely double-casted, with two actors playing each character. The two casts are "cast A" consisting of Emmy Modica playing Marme, Brooke Hayes playing Jo March, Olivia Sauerberg playing Meg March, Hannah Norman playing Beth March, and Olivia Cornett playing Amy March. The second cast, "Cast b," consists of Aubee Billie playing Marme, Olivia Henley playing Jo March, Annie Matot playing meg march, Reese Collier playing Beth March, and Maddie Begin playing Amy March. The double casting has given the actors the opportunities to watch and learn from their counterparts. While the family is double cast, the other characters are not, with Camden Popadic playing Laurie, Skylar Peterson playing Mr. Lawrence, Jonathan Allen playing Professor, and Noah winters playing John Brooke.
Little women follows the story of the March family and the protagonist, Jo's, navigation through life. The story mirrors the author, Louisa May Alcott's life, family, and journey towards authorship. The musical covers the true meaning of family and the march family's connectedness regardless of distance. The first act copes with Mr. March, fighting in the civil war, and small strife within the family. Act two fights with Jo's need to be in control and the passing of time.
The musical is set in the civil war era and includes a variety of period costumes. The cast will begin to rehearse in these costumes in the upcoming week so that they can discover themselves and their character. Excitingly, the ensemble has had to rehearse in Heelys for an ice-skating scene. They have been working tirelessly to grasp Heely-ing without falling and making their movements seem graceful and perfect while gliding across the stage.
The cast will begin recording the show November 30th- December 4th and open the house for patrons on December 10th- December 12th. For these upcoming dates, the cast has been continuously rehearsing, jumping between casts. Despite the double casting, and the sharing of roles, the cast is super close, and they are all rooting for each other's success.