"For to us a child is born,
to us a son is given;
and the government shall be upon his shoulder,
and his name shall be called Wonderful Counselor, Mighty God,
Everlasting Father, Prince of Peace."
Isaiah 9:6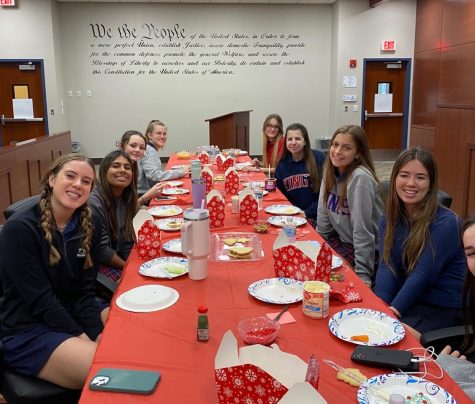 The Christmas season has passed at The King's Academy, and teachers and students alike participated in incorporating Christmas into countless aspects of daily classroom life. Classrooms were adorned with all sorts of Christmas decorations, and many teachers went to great lengths to decorate their classrooms for the holiday, filling their classrooms with lights and Christmas trees.
There were also holiday-themed activities which occurred throughout the month of December to commemorate the Christmas season. Several advisory groups spent their December monthly gathering participating in holiday-themed activities such as decorating Christmas cookies together.
Activities such as these allowed students to set aside some time to celebrate the season, even in the midst of a stressful season of studying for finals. Students were able to have fun through the many Christmas-related activities and reflect on the significance of the Christmas season during an otherwise busy time.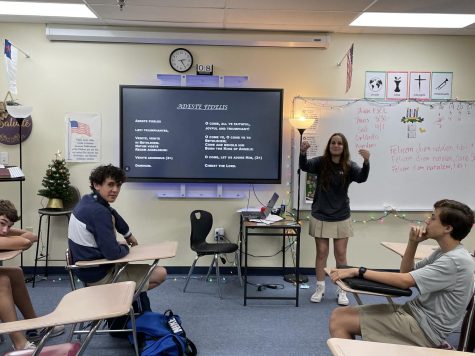 One of the most unique and special observations of the season was that of the Latin classes. Latin students at The King's Academy observed the advent season throughout the month of December through special Latin-related activities which focused on the meaning of Advent and the importance of understanding the significance of Christmas.
Mrs. Lauren Beck, Latin, and ancient history teacher recalls: "I like to highlight the weeks of advent leading up to Christmas break with a magnetic advent wreath and candle set and other traditional decorations. In Latin class, we read the Magnificat, the Latin translation of Mary's prayer from the Gospel of Luke, and sing some Christmas hymns/carols that were originally in Latin after learning about their history. In both Latin and honors ancient history, I like to reflect on the week's candle theme with some scripture reading."
Most importantly, many teachers set aside time in their classes to discuss the true meaning of the Christmas season with students. Teachers used this season as a time to highlight the truth of the significance of Christ's first coming and incarnation in order to redeem sinners and provide a means of eternal salvation through His sacrifice on the cross and resurrection. Teachers accomplished this through the reading of daily devotionals and even personal conversations with students about the biblical account of the story of Christ's birth. These conversations allowed for further reflection on how Christ's first coming ought to influence one's mindset, attitude, and actions throughout the year, not just during the Christmas season.
Mrs. Beck further discusses the importance of emphasizing the true meaning of the advent season: "I think that sometimes in our modern culture, we get so excited about Christmas that we neglect to fully appreciate and rest in the advent season, the period of time from Thanksgiving to Christmas Day where we celebrate our savior Jesus' first coming to earth. The celebration of advent is so crucial because it first can provide a time for calm reflection in such a busy season and allow us to focus on the true importance of Advent or the coming of Jesus. Without the incarnation, there would be no forgiveness of sins and reconciliation with the creator of the universe!"