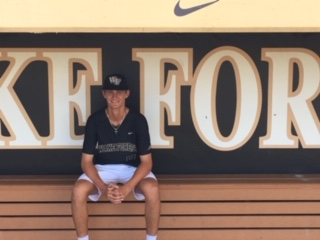 Our Lions athletic teams are known for being outstanding and having many athletes who commit to play a variety of sports in college. As announced this summer, our very own Lions baseball pitcher, Hunter Furtado, has committed to the D-1 college, Wake Forest. Wake Forest is a highly selective, private University located in North Carolina that only accepts the top 28% of students that apply each year. Hunter's solid GPA and extraordinary baseball skills led him to receive an offer from Wake Forest.
In his time at The King's Academy, Hunter has developed many relationships with his fellow students, faculty members, and our amazing athletic staff. Hunter shared his story about getting committed to Wake Forest on our King's TV announcement broadcast, where he discussed the importance of making connections with others during high school. Hunter's success in his baseball career really shows that, along with hard work, surrounding yourself with great people can be a huge influence on your life.
While the great amount of support from everyone in his life helped shape his athletic career, his dedication and passion for baseball really drove him to his success. His dad influenced him to start playing baseball at a very young age, which began his love for the sport. The minute he began playing, it felt so natural to him that he grew an enormous love for every aspect of the game. After playing for so many years he developed a sense for the personal strengths and weaknesses in his baseball performance. He realized that while his hitting skills were not the best, his ability to pitch was a strength. He kept training as hard as he could, and Wake Forest eventually noticed, giving Hunter an offer to commit to their baseball program. He accepted this offer.
Hunter Furtado is dearly loved by everyone on our campus, and we, as a school, could not be happier to announce his commitment to Wake Forest next fall. His story is truly one of hard work, commitment, and shaping yourself to be a God-loving, intelligent person. Hunter will leave a legacy at this school, giving athletes all over campus proof that real sportsmanship can lead to great things. In the words of the King's Academy Athletic Department, "God Bless and Go Lions".