Sarah Fuller: The Girl who Made History
The First Female to Play Football in Power Five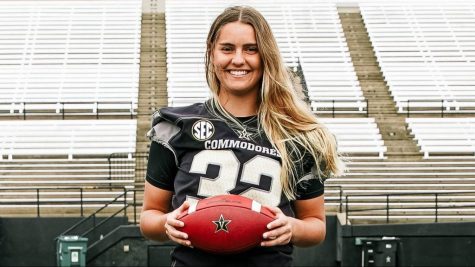 Sarah Fuller. The girl who made has made history while only being twenty-one. She has broken even more barriers by simply being a girl. Throughout my entire life, all I heard was that girls can't play football, or that girls could never be as good as boys at any sports. Obviously, Sarah has crushed both theories. She is the kicker for Vanderbilt University Commodores. The team definitely needed some help. All of the other college teams have new and old players that are faster and stronger with outstanding potential. So far, their season has not been going as well. They are 0-8. Sarah started gaining interest in football when her soccer coach told Fuller and another goalkeeper to see how far they could kick the ball. By the end of the contest, Sarah kicked forty-five whole yards.  
The Vanderbilt Commodores all took the COVID test and the results ended with many of them unable to participate. Knowing that Sarah was very talented in kicking, the football team asked her to play in the power five tournaments. She accepted full-heartedly and moved along. Although she did not get a chance to score any points, she was able to become the first woman to play in the tournament. Recently she was able to score some points. She really amazes some people. But there are some haters out in the world. They try to bring her down and tell her things that would make her want to give up. Luckily her fans encourage her enough to make her ignore all of the hate.  
She is a big influence on little girls and women. They look up to her and see that she has overcome so many things that nobody thought she could. They see that girls can be strong and can do anything that guys can. Sarah hustled for her position. The opportunity that was 'given' to her was earned. Sarah told ESPN in an interview, "This was never an easy path." And she is right. You always have to work for what you want, and you're lucky if it is given to you.