And Happy Ever After…?
In the Spring of 2021, Smith Conservatory students filmed the musical Into the Woods. The retelling of the famous Brothers Grimm fairy tales in a musical style follows the classic stories of Cinderella, Little Red Riding Hood, Jack and the Beanstalk, and Rapunzel all connected by an original story. These characters, followed by a baker with his wife, go 'Into the Woods' to get their wish fulfilled. Into the Woods, is an especially difficult musical for a high school cast to perform. Stephen Sondheim's music is intricate and the storyline by James Lapine is grim, as these characters cope with death and disappointment. Mckayla Martin, tenth grader states, "I think Into the Woods was a difficult show because it requires you to be very creative in the way you portray your character. It's a fairy tale so the characters are extravagant but they all have a lesson to teach. To be able to convey a real message through a seemingly whimsical character is a challenge but it's fulfilling when you figure it out."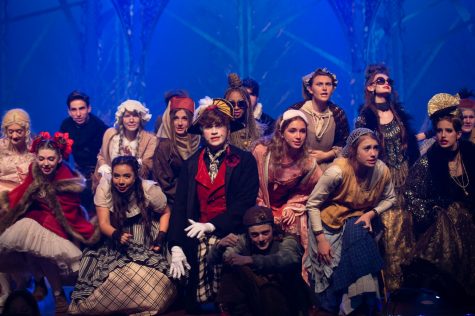 The rehearsal process differed from past productions due to interim directors, D.B. Bonds, and Tess Soltau, taking on this project alongside the cast and crew of Into the Woods. D.B. Bonds is an associate director from Broadway who has worked on famous shows such as Kinky Boots, and Pretty Woman. D.B. has been in the theatre business since his Broadway debut in the 1987 production of Les Miserables. Tess Soltau, a 2005 graduate from The King's Academy, has been a part of many theatre projects at TKA. Last year, for The King's Academy's 50th anniversary, Tess Soltau played Amneris in our production of Aida. Outside of King's, in the Central Park production of Into the Woods, with an all-star cast including Amy Adams and Donna Murphey, Tess Soltau played the role of Rapunzel.
With the expertise from this dynamic duo and amazing full costuming by Ryan Park, a costume designer from NYC who has worked on productions like NBC Upfronts, Sound of Music, and Peter Pan Live!, the cast and crew of Into the Woods were able to pull up this production with such amazing quality and splendor.