Places, Everyone
The King's Academy is notable for many awarding winning programs, including The Conservatory. The King's Academy Theatre Company has won numerous awards and, last year, two of our students were sent to participate in the Jimmy Awards, a nationwide high school theater award show. Our shows are recognizable for their production quality, as well as the talent of its student actors. But what exactly goes into creating a full production?
For starters, at the end of each school year auditions are held to decide who will be leading on our stage the following year. After the casting is decided, those selected students will be put into lessons throughout their summer to prepare for their roles, as well as learn new music to help improve their abilities further. On average, the rehearsal process of the show itself, including the ensemble and principal roles, is around 4-6 weeks- but that is always subject to change. Usually, the first two weeks of rehearsal are dedicated to learning the book and its music. The ensemble members will work three days per week, including Saturdays, and the leads will work six days a week. After the book is learned, staging will begin. The staging process normally stars before the set has arrived, so they will be prepared once it does get there. The set is delivered around a week or two before the show itself begins its run. By this time students are in rehearsals every day after school with the ensemble going till 6:00 PM, and the leads going till 9:00 PM. Finally, a week before the show begins, the students will endure tech week. During tech week, the students will be at school preparing till 9:00 PM and on Saturdays will be there from 9:00 AM to 9:00 PM. Finally, the show will open, and begin its eight-show run over two weeks. Throughout those two weeks, the cast will have one brush up rehearsal, but it is not uncommon for the next show to begin rehearsals while another is still being produced. Overall, the students and crew will work anywhere from 18 to 32 hours a week to create the productions that you see on our stage.
Upon viewing the effort that goes into productions at The King's Academy, it is no wonder why we are nationally ranked and are continuing to work towards new awards for our school.
About the Writer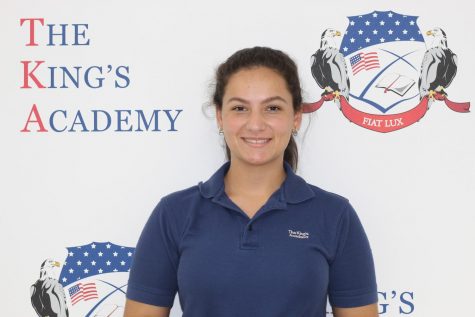 Madison Fuhrman, Contributor
Madison Fuhrman is a senior at The King's Academy and this is her second year writing for The Lion Ledger. She has been attending TKA for eight years...