Powderpuff!
What better way to kick-off homecoming week than with a powderpuff game! After
dressing up as our themes for theme day, students were invited to attend the flag football game
between the Junior and Senior girls. The 11th grade team was wearing white jerseys and the
12th grade team was in red. Lots of energy was in the stands, some students had signs
supporting the grades, one group even had an air horn which they used to hype up the crowd.
Seniors definitely started off strong and stayed in the lead for the first half of the game. Gianna Caliendo kept up the momentum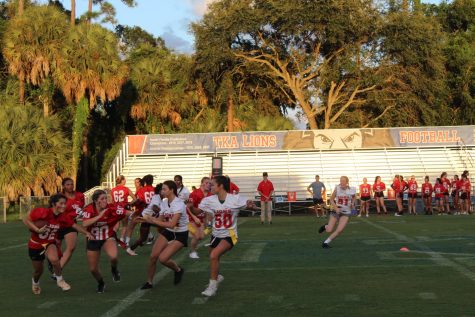 with a pick-six making the stands go crazy.
At halftime, the Junior and Senior boys played a game of ultimate frisbee for the crowd, the
energy in the stands and the field was palpable, as everyone cheered on their respective class.
The class of '23 won the halftime show, and it was back to the game!
Anna Kate Scroggins quickly became the star of the Junior team, scoring a touchdown
during the fourth quarter of the game and closing the distance between the scores. Despite
this comeback from 11th grade, the Seniors were victorious, winning 21 to 13! Will the Class of
'22s win Monday begin a streak? We will have to wait and see.