Give Thanks
The year is 1962 in Plymouth, Massachusetts, the Pilgrims gather together to give thanks to God for the blessings they've received. Little did they know, this small gathering of colonial settlers would soon grow into what we know today as Thanksgiving.
It wasn't until 1623 that this holiday was first known as "Thanksgiving". Thanksgiving is a time of the year that unites people and changes the perspective of many. This holiday allows individuals to self-reflect on what they are thankful for and cherish their loved ones. People all over the nation celebrate Thanksgiving through the act of lifelong family traditions.
The various Thanksgiving traditions within the US and even in Canada look different for each family. Thanksgiving is known for its wide variety of foods, including turkey, stuffing, mashed potatoes, corn, casserole, cornbread, green beans, and other family favorites. There are other traditions, such as the annual NFL football game that occurs every Thanksgiving Day. There is also the famous Macy's Day Parade that takes place in New York City.
However, many choose to celebrate the holiday in their own special way. After speaking with senior, Ani Brown, she says that for Thanksgiving, her family "celebrates Thanksgiving by all coming together at my grandmother's house. Right before we eat our meal, we pray, and then go around and say the things that we are most thankful for that particular year." Similar to her family's traditions, senior Chris Santiago enjoys Thanksgiving with his family as well. He states, "We meet at one of my family members houses and everyone brings a dish. We normally sit at a long table outside, and then we start by going around the table in prayer focusing on our thanks. After that, we feast." The common factor between both traditions is family and friends being together, while enjoying one another's company.
This time of year gives people a sense of joy and unity within their personal lives and their relationships. Not only during this season, but every day, make sure you let your loved ones know how thankful you are for them. Never forget to give thanks for the many blessings that God has so freely given to each and every one of us.
About the Writer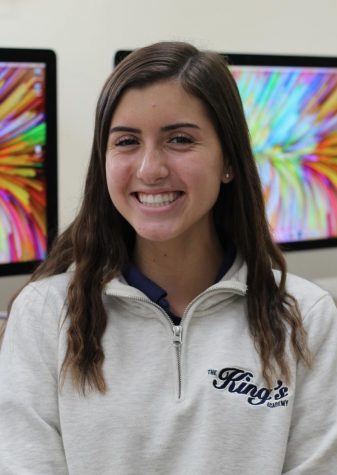 Maddy Diddle, Contributor

Maddy Diddle is currently a senior at The King's Academy. She has been at King's for 13 years. This will her be her 6th year playing lacrosse at...